Compact, versatile oscilloscope for daily debug
The 2 Series MSO features up to 4 analog channels, 500 MHz bandwidth, 2.5 GS/s sample rate, 16 channel MSO, 50 MHz AFG, 4-bit digital patten generator, advanced triggers, protocol decode, DVM, and frequency counter is packed with features, all in a compact form factor about 1.5" thick making it the go-to oscilloscope for electronic debug and test, no matter where you work.
With a capacitive touchscreen and a highly intuitive user interface truly designed for touch, the 2 Series MSO joins the Tektronix family of award-winning next generation oscilloscopes. The shared user interface and the programmatic interface makes it easy to use any Tektronix next generation oscilloscope.
The optional battery pack extends the instrument capabilities by enabling the same instrument that is used in the lab to also be used in the field.
A large catalog of compatible probes and well-rounded set of accessories makes the 2 Series MSO the most capable and versatile instrument in its class and suitable for a variety of applications.
Intuitive touchscreen with simplified front panel
The 2 Series MSO offers the same, award-winning user interface as on the higher end Tektronix oscilloscopes and supports touch-interactions that you have come to expect in a touch-enabled consumer device.
Drag waveforms left/right or up/down to adjust horizontal and vertical position or to pan a zoomed view
Pinch and expand to change scale or zoom in/out in either horizontal or vertical directions
Swipe in from the right to reveal the results bar or down from the top to access the menus in the upper left corner of the display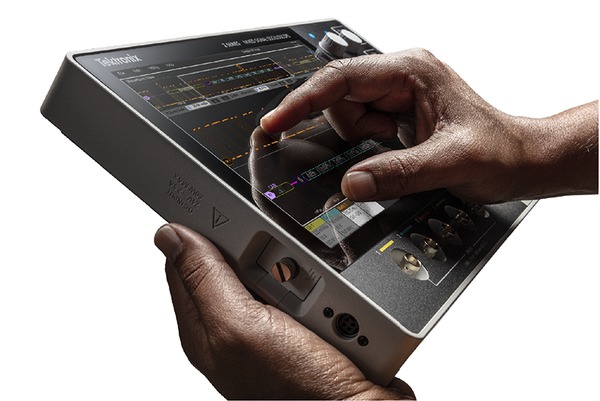 The simplified front panel retains critical buttons and knobs with color-coded LED ring lights allowing quick access and easy adjustment of the most frequently used instrument settings.
The membrane switch technology makes it rugged and suitable for use in harsh environments and easy to clean.
The combination of a streamlined front panel with an intuitive touch interface makes it easy for any new engineer to self-discover and begin using the instrument.
An USB mouse and/or a keyboard is also supported and can be used as a third interaction method with the instrument.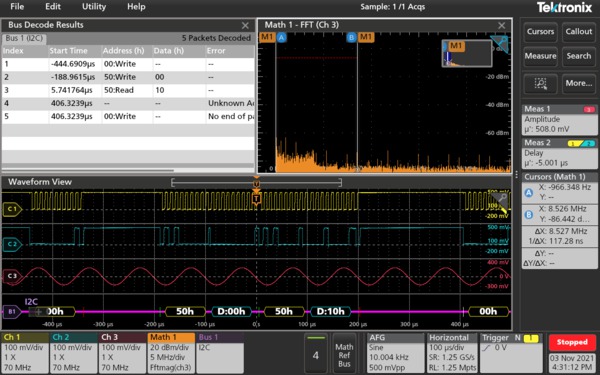 Exceptionally easy to use interface with comprehensive analysis for fast insight
The user interface on the 2 Series MSO is designed from the ground up for touch operation. All the key information is presented as a series of badges with visual cues to show association. Get immediate access to instrument configuration or waveform management tasks with a single tap.
The 2 Series MSO offers a revolutionary new stacked display mode in this class, Traditionally all the waveforms were overlayed on a single graticule leading to unwanted tradeoffs:
Vertical scale and position of each waveform needs to be adjusted so that they do not overlap, resulting in usage of only a small percentage of the ADC range leading to inaccurate measurements.
Adjusting the waveform vertical scale and position leads to overlap, making it difficult to distinguish details on an individual waveform.In the stacked display mode, each waveform gets its own slice (additional graticule) representing the full ADC range to enable maximum visibility and accuracy. Groups of channels can also be overlayed to enable visual comparison of signals.

The 2 Series MSO offers a comprehensive set of standard analysis tools including:

Waveform and screen-based cursors with user-selectable readout location.
36 automated measurements with measurement statistics and gating, the ability to add an unlimited number of measurements, navigate from one occurrence to the next, and immediate viewing of the minimum or maximum result.
Basic and advanced waveform math including arbitrary equation editing.
Basic FFT analysis with options to view magnitude or phase, multiple options to customize window type, gating, and units.

The large display in the 2 Series MSO provides plenty of viewing area not only for signals, but also for plots, measurement results tables, bus decode tables, and more. You can easily resize and relocate the various views to suit your needs.
Triggering
Discovering a device fault is only the first step. Next, you must capture the event of interest to identify root cause. The 2 Series MSO provides a complete set of advanced triggers, including runt, logic, pulse width, triggers, timeout, rise/fall time, setup and hold, serial packet, and parallel data that can be used to capture complex infrequent events.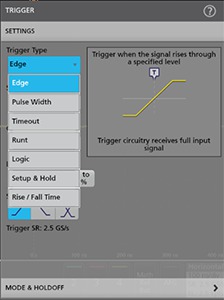 Act on event
Act on event capability built into the instrument enables users to setup the oscilloscope to respond by performing certain actions when a specified condition such as trigger event, measurement limit failure, search event or mask test events occur. This enables easy capture and analysis of rarely occurring events.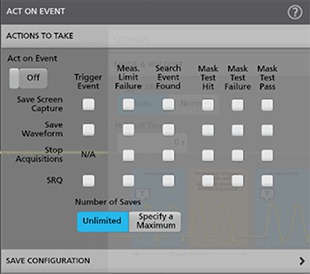 Navigation and search
With up to 10 M point record length, you can capture many events of interest, even thousands of serial packets in a single acquisition, while maintaining high resolution to zoom in on fine signal details.
Finding events of interest in a long waveform record can be time consuming without the right search tools.
The search feature allows you to automatically search through your acquisition for user-defined events. All occurrences of the event are highlighted with search marks for easy navigation. Search types include edge, pulse width, timeout, runt, window, logic, setup and hold, rise/fall time, and parallel/serial bus packet content. You can also quickly jump to the minimum and maximum value of search results.
Callouts
Documenting test results and methods are critical when sharing data across a team, recreating a measurement later or delivering a customer report.
With a few taps on the screen, you can create as many custom callouts as needed, enabling you to document the specific details on the waveforms. With each callout, you can customize the text, location, color, font size, and font.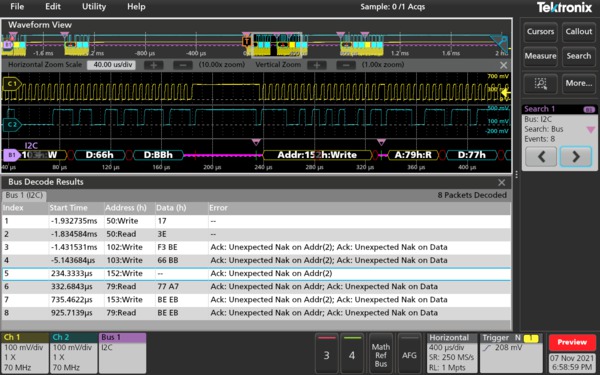 Mask testing
Mask testing offers a good way to test the quality of a signal. A mask defines a portion of the oscilloscope display that a signal must not enter. A mask can be defined either based on a golden signal with user defined tolerances or drawing mask segments on the screen.
2 Series MSO provides a comprehensive set of mask tools that allow:
Defining test duration in number of waveforms
Setting a violation threshold that must be met before considering a test failure
Counting violations/failures and reporting statistical information
Setting actions upon violations, test failure, and test complete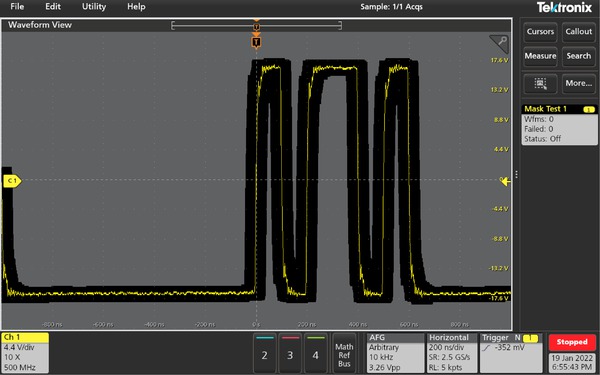 Serial protocol triggering and analysis (optional)
The 2 Series MSO offers a robust set of tools for working with the most common serial buses found in embedded design including I2C, SPI, RS-232/422/485/UART, CAN, CAN FD, LIN, SENT.
The protocol decode and triggering capability is invaluable to trace the flow of activity through a system by observing the traffic on one or more serial buses.
Serial protocol triggering lets you trigger on specific packet content including start of packet, specific addresses, specific data content, unique identifiers, and errors.
Bus waveforms provide a higher-level, combined view of the individual signals (for example clock, data, chip enable, etc.) that make up your bus, making it easy to identify where packets begin and end, and identifying sub-packet components such as address, data, identifier, CRC, and so on.
The bus waveform is time-aligned with all other displayed signals, making it easy to measure timing relationships across various parts of the system under test.
Bus decode table provides a tabular view of all decoded packets in an acquisition. Packets are time stamped and listed consecutively with columns for each component (address, data, and so on).
Digital channels (optional)
The 2 Series MSO comes equipped with 16 digital channels. A P6316 digital probe can be used to connect up to 16 signals to the digital inputs of the oscilloscope. The accessories that are included with the probe enable you to connect directly to 8×2 square pin headers. The included flying lead sets and grabbers can be used to clip into surface mount devices or test points offering additional flexibility.
Each digital channel can be viewed separately to see its state. Alternately, several digital channels can be grouped to view them together in a bus form. Symbol tables can also be applied to the bus view to get a higher level view of the bus transactions. Pattern triggering capability can be used to trigger on a pattern of interest.
Arbitrary function generator (optional)
The 2 Series MSO includes an optional 50 MHz arbitrary function generator perfect for simulating sensor signals within a design or adding noise to signals to perform margin testing. The AFG output is multiplexed with the Aux out signal.
Several predefined waveforms including sine, square, pulse, ramp/triangle, DC, noise, sin(x)/x (Sinc), gaussian, lorentz, exponential rise/fall, Haversine, and cardiac are included.
The arbitrary waveform generator provides 128k points of record for loading waveforms captured on the analog input, a saved file. Alternatively Tektronix ArbExpress PC-based waveform creation and editing software can be used to create complex waveforms quickly and easily.
Digital pattern generator (optional)
A 4-bit digital pattern generator with 2k point record length per bit is included on the 2 Series MSO for generating 4 digital signals at predefined voltage levels.
An output pattern can be loaded in the memory using a predefined CSV file or the state of each output can be manually set to high, low, toggle, or Hi-Z as needed.
Digital voltmeter and frequency counter (optional)
The instrument contains an integrated 4-digit digital voltmeter and 8-digit frequency counter. Any of the analog inputs can be a source for the voltmeter, using the same probes that are already attached for general oscilloscope usage. The frequency counter provides a very precise readout of the frequency of the selected input channel.
Connectivity
The 2 Series MSO contains several ports that you can use to connect the instrument to a network, directly to a PC, or to other test equipment.
Two USB 2.0 ports enable easy transfer of screenshots, instrument settings, and waveform data to a USB mass storage device. A USB mouse and keyboard can also be attached to USB host ports for instrument control and data entry.
The USB device port is useful for controlling the oscilloscope remotely from a PC.
The standard 10/100BASE-T ethernet port enables easy connection to networks and remotely controlling the instrument and viewing the acquired data.
Battery pack (optional)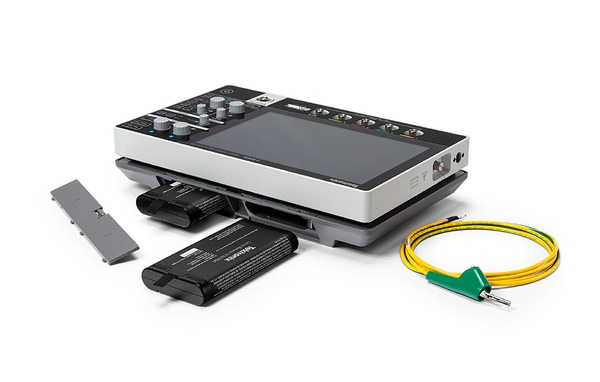 The 2 Series MSO also supports an optional battery pack that provides additional flexibility to perform measurements in areas where there is no AC power available such as testing equipment in the field.
The battery pack has 2 battery slots and can support hot swapping of the batteries during operation to extend run time on batteries.
The batteries are charged when the instrument is on AC power, or they can be charged using an external charger.
Programmatic interface and backward compatibility
Programmable interface commands can be used to remotely control the instrument through the USB device port or the ethernet port. This enables programming the instrument to perform an automated set of tasks or integrating into a larger system that includes other equipment for performing specific tasks.
The programmatic interface command set is compatible with the next generation of Tektronix oscilloscopes making it easy to reuse code written for other Tektronix oscilloscopes.
The instrument also supports a compatibility mode that, when enabled, makes the 2 Series MSO compatible with the programmatic commands of the legacy TDS2000, TBS1000, and MSO/DPO2000 family of Tektronix oscilloscopes. This compatibility mode makes it easy to replace an older model oscilloscope in an existing test system with the 2 Series MSO.
Accessories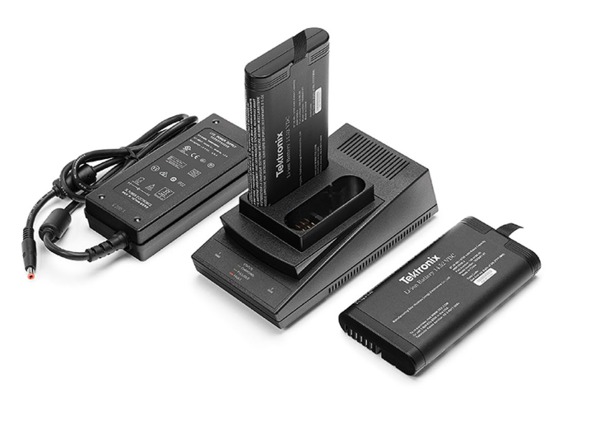 Apart from the battery pack several other accessories are available to make the 2 Series MSO suitable for a variety of applications
Rack mount kit to mount the instrument in a rack for production
Soft protective case with kick stand to protect the instrument and make it easy to carry it into the field
Hard travel case for shipping the instrument
The 100 mm x 100 mm standard VESA interface on the back of the instrument is compatible with a wide variety of accessories
Education features
Help when you need it where you need it.
The 2 Series MSO includes several helpful resources so you can get your questions answered rapidly without having to find a manual or go to a website:
Graphical images and explanatory text are used in numerous menus to provide quick feature overviews.
All menus include a question mark icon in the upper right that takes you directly to the portion of the integrated help system that applies to that menu.
A short user interface tutorial is included in the Help menu for new users to come up to speed on the instrument in a matter of a few minutes.
Feature control
The 2 Series MSO offers new ways to enable educators to devote more time to teaching circuit concepts instead of lab setup and management.
Educators can disable autoset, cursors, and automated measurements on the instruments so that they can teach the students on the basic concepts and help them understand how to use the instruments horizontal and vertical controls to get the waveform display, use the graticule to measure time and voltage and manually plot/calculate the signal characteristics.
TekDrive
The 2 Series MSO is natively integrated with TekDrive collaborative test and measurement data workspace, that allows users to upload, store, organize, search, download, and share any file type from any connected device.
Seamlessly access your data anywhere
Save/Recall directly on instruments
Inspect, analyze, and report saved data on any device using a browser
Collaborate seamless with other contributors
Integrate into any workflow with scripting using REST API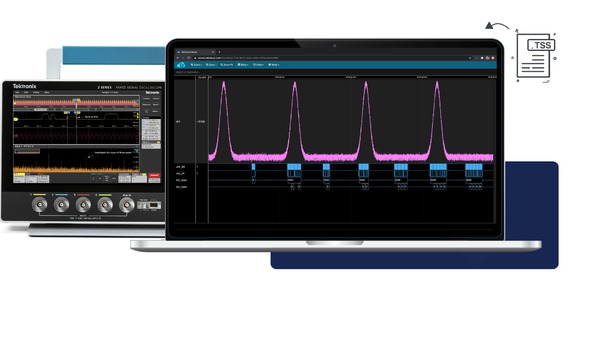 TekScope PC analysis software
Get the analysis capability of an award-winning oscilloscope on your PC. Analyze waveforms anywhere, anytime.
Analyze waveforms anywhere without an oscilloscope using the same UI as the oscilloscope
Share data with colleagues and customers
Synchronize waveforms from multiple oscilloscopes on the same screen
Add advanced analysis capabilities such as spectrum analysis, jitter analysis, and advanced bus decoding.