The 3 Series MDO Platform
Large high-resolution touch display
The 3 Series MDO features an 11.6 inch (295 mm) wide-screen, HD display (1920 x 1080) for seeing intricate signal details.
Connectivity
The 3 Series MDO contains a number of ports which can be used to connect the instrument to a network, directly to a PC, or other test equipment.
Front and rear USB host ports enable easy transfer of screen shots, instrument settings, and waveform data to a USB mass storage device. A USB keyboard or mouse can also be attached to a USB host port for data entry or control.
Rear USB device port is useful for controlling the oscilloscope remotely from a PC.
The standard 10/100 Ethernet port on the rear of the instrument enables easy connection to networks, provides network printing, and provides LXI Core 2011 compatibility.
A HDMI port on the rear of the instrument allows the display to be exported to an external monitor or projector.
Remote connectivity and instrument control
Exporting data and measurements is as simple as connecting a USB cable from the oscilloscope to your PC. Key software applications – OpenChoice® Desktop, and Microsoft Excel and Word toolbars enable fast and easy direct communication with your Windows PC.
The OpenChoice Desktop enables fast and easy communication between the oscilloscope and your PC through USB or LAN for transferring settings, waveforms, and screen images.
The embedded e*Scope® capability enables fast control of the oscilloscope over a network connection through a standard web browser. Simply enter the IP address or network name of the oscilloscope and a web page will be served to the browser. Transfer and save settings, waveforms, measurements, and screen images or make live control changes to settings on the oscilloscope directly from the web browser.
Compact form factor
With the compact, portable form factor, you can easily move the oscilloscope between labs. And with a depth of just 5.9 inches (149 mm), it saves you valuable space on your test bench. The 3 Series MDO has all the tools you'll need for everyday debug tasks, all in a single instrument.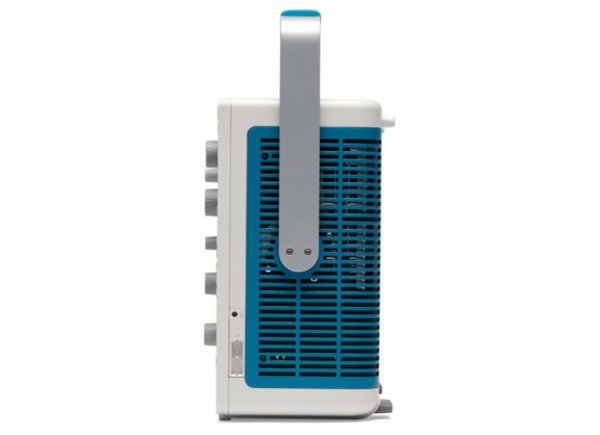 The 3 Series MDO compact form factor frees up valuable space on your bench or desktop while making sure you will always have the debug tools you need.
Accurate high-speed probing
The 3 Series MDO ships standard with passive voltage probes and uses the TekVPI probe interface.
Standard passive voltage probes
The 3 Series MDO include passive voltage probes with industry best capacitive loading of only 3.9 pF. The included TPP probes minimize the impact on devices under test and accurately deliver signals to the oscilloscope for acquisition and analysis. The following table shows which TPP probes come standard with each 3 Series MDO model.
| 3 Series models: MDO32, MDO34 | Included probe |
| --- | --- |
| 100 MHz, 200 MHz | TPP0250: 250 MHz, 10x passive voltage probe. One per analog channel. |
| 350 MHz, 500 MHz, 1 GHz | TPP0500B: 500 MHz, 10x passive voltage probe. One per analog channel. |
TekVPI probe interface
The TekVPI probe interface sets the standard for ease of use in probing. In addition to the secure, reliable connection that the interface provides, TekVPI probes feature status indicators and controls, as well as a probe menu button right on the comp box itself. This button brings up a probe menu on the oscilloscope display with all relevant settings and controls for the probe. The TekVPI interface enables direct attachment of current probes without requiring a separate power supply. TekVPI probes can be controlled remotely through USB, GPIB, or LAN, enabling more versatile solutions in ATE environments. The instrument provides up to 25 W of power to the front panel connectors from the internal power supply.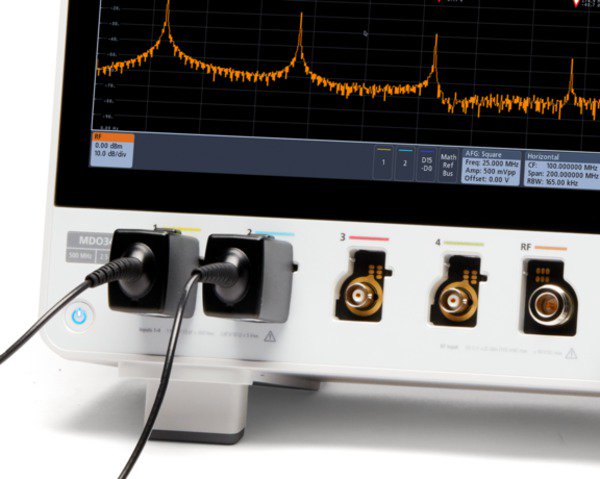 TekVPI probe interface simplifies connecting your probes to the oscilloscope.
Typical applications
Embedded design and IoT

Discover and solve issues quickly by performing system level debug on mixed signal embedded systems including today's most common serial bus technologies with the 3 Series MDO and support for a broad set of common serial buses.

Power design

Make reliable and repeatable voltage, current, and power measurements using automated power quality, switching loss, harmonics, ripple, modulation, and safe operating area measurements with the widest selection of power probes in an affordable solution.

Education

Managing multiple instruments on a bench can be troublesome. The 3 Series MDO combines analog, digital, and RF measurements with a signal source in a single, small (5.9 in., 149 mm deep) instrument. The combination of a small instrument and high level of integration aids in the teaching of various electronics principles as well as in its usage for more sophisticated lab experiments. Full upgradeability enables adding functionality over time as needs change or budgets allow.

Manufacturing Test and Troubleshooting

Size and space constraints can play havoc on a manufacturing floor. The 3 Series MDO minimizes rack or bench space by integrating multiple instruments into one small package. Integration reduces cost associated with utilizing multiple different instrument types in manufacturing test or troubleshooting stations.

Service Installation and Maintenance

Having the right instruments when and where you need them is critical. The 3 Series MDO combines analog waveforms, digital logic, and spectrum analysis in a lightweight (11.7 lbs, 5.3 kg), portable package – making it the perfect choice where space is limited and flexibility is desired.