The bidirectional programmable DC power supply of IT6000C series combines two devices in one: a power supply (source) and an electronic load (sink) with energy recovery. Based on these two functions, IT6000C bidirectional DC power supply offers the functionality of two-quadrant operation. The regenerative capability enables the energy consumed to be put back onto the grid cleanly, saving costs from energy consumption and cooling, while not interfering with the grid. IT6000C series provide 7 voltage grades, max. output voltage up to 2250V, support master-slave paralleling with averaging current distribution, max. output power up to1.152MW. Built-in waveform generator supports generating arbitrary waveforms, and import LIST files for waveforms via front panel USB port. IT6000C is the combination of high reliability, high efficient setting, safe and multiple measurement functions. IT6000C is a family of bidirectional, regenerative power system with excellent performance, extensively used in aspects of high power battery, automotive electronics, green energy, high speed testing, etc.
Bi-directional energy, seamless transfer
The IT6000C Series combines bidirectional dc power supply and regenerative dc electronic load function in one. Unlike traditional power supplies and E-loads, for which there will be short transitions and inconsistencies in the middle of positive and negative current switching, IT6000C is a standard high-speed bidirectional power supply, enables high-speed source and sink current fast and continuous seamless switching, effectively avoiding voltage or current overshoot, and can be widely used in Energy storage device test, like batteries, cell packaging equipment and battery protection board testing .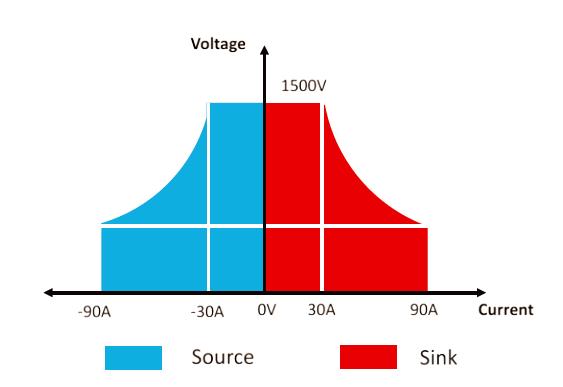 ---
High energy regenerative efficiency 
The IT6000C series has a unique energy regenerative function that can regenerate electrical energy and then directly use it in the plant instead of consuming it in the form of heat. The regenerative efficiency can reach up to 95%, which not only will greatly reduce the user's electricity cost, but also avoid the using of air conditioning or expensive cooling systems.

---
Application for solar array simulation
IT6000C bidirectional DC power supply configured with optional ITECH SAS1000 Solar Array Simulation Software, users can easily use the software to output, measure, display the MPP tracking status of photovoltaic inverter in real time simulation and record value. Built-in EN50530 / Sandia NB/T32004 / C GC/GF004 /CGC/GF035 standard testing procedures, it is convenient for users to test the static and dynamic MPPT performance of PV inverters and generate reports. Solar simulation power supply also provides the shadow and table mode operation, the user can enter up to 4096 points array to edit any shielded IV curve to achieve dynamic shadow effect simulation and also can store 100 I-V curves under different irradiation and temperature to test the long-term maximum power tracking performance of photovoltaic inverters under different climatic conditions.